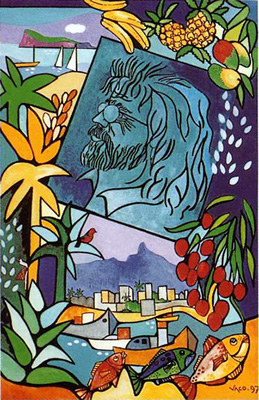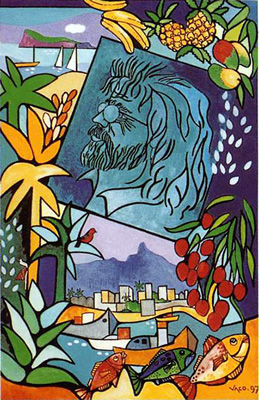 Vaco naît à l'Ile Maurice en 1940. Il expose pour la première fois dans son île natale en 1958. Sa deuxième exposition se fait à la Réunion en 1960. Année, à partir de laquelle il travaillera avec Serge Constantin et Siegfried Sammer au théâtre du Plaza (Rose Hill), jusqu'en 1963.De 1964 a 1970, Vaco s'envole pour Paris et Bruxelles ou il étudie.
A la suite de cette étape européenne, il s'en va vers l'Afrique qui le retient pendant 20 ans. C'est en 1990 que l'artiste revient finalement dans son île. Fidèle à sa passion, il ouvre un atelier de peinture où il donne des cours aux enfants et aux adultes. Il entreprend également de grandes peintures murales pour les principales entreprises de l'île. Dans l'intervalle, Vaco expose régulièrement avec ses élèves, et en 1998, il ouvre sa propre galerie à Grand Baie, en présence du président de la République. M. Cassam Uteem, invité d'honneur qui procède à l'inauguration officielle.
L'artiste a représenté l'Ile Maurice dans les grands salons internationaux où il apporte les îles, le soleil, et la lumière qu'il peint.
Ainsi, en 1993 il représente l'Ile Maurice à l'occasion des 90 ans du salon d'Automne au Grand Palais à Paris. Du 12 juin au 27 juillet 2001, il expose à Bruxelles, à l'invitation du ministère belge à la coopération et au développement – à l'occasion de la présidence belge de l'Union Européenne.
Du 17 au 30 novembre de la même année, il expose à Fribourg en Suisse. Du 19 au 31 octobre 2002, il transporte ses toiles à Paris, au musée Vera de Saint-Germain-en-Laye. Du 25 septembre au 31 octobre 2003, c'est la prestigieuse galerie italienne ARTE92 qui l'accueille à Milan.
En décembre 2005, il propose à Maurice son expo « Voyages aux mers du Sud », qui lui a été inspirée par un périple eff ectué en 2004 et qu'il l'a mené en Australie, en Nouvelle Zélande, en Polynésie et aux Marquises.
En janvier 2008, on le retrouve cette fois à Hong-Kong pour une exposition privée. Et l'année 2008 se termine avec une exposition du 25 novembre au 12 décembre à Genève en Suisse.
Fin mars 2009, Vaco anime un atelier au Lycée Labourdonnais de l'île Maurice « Semaine Terre de Couleurs » au cours duquel il réalisa une fresque avec les élèves.
Vaco a continué à travailler sur de nombreux grands projets artistiques pour les secteurs privé et public depuis son atelier de Grand Baie jusqu'à son décès en février 2023.

  Vaco was born in Mauritius in 1940 where he exhibited for the first time in 1958. His second exhibition was in Reunion Island in 1960. For the following three years he worked with Serge Constantin and Siegfried Sammer at thier studio in the Plaza theatre, Rose Hill.
From 1964 to 1970 he left Mauritius to study art in Brussels and Paris. After his studies in Europe he moved to Africa and stayed for the following 20 years.In 1990 he finally returned to his native isle to pursue his passion. Vaco opened a studio where he gave art lessons to adults and children. At the same time he was commissioned to paint large paintings and murals for the islands principle establishments as well as exhibiting his own work along with his students. In 1998 he opened his own gallery in Grand Bay which was inaugurated by the president of Mauritius, Mr Cassam Uteem.
Vaco has represented Mauritius at important international exhibitions with his aesthetic metaphors of islands, sun and light.
In 1993 he represented Mautirius in the 90th salon d'Automne in Paris. He exhibited in Brussels from 12th June to 27th July 2001 by invitation from Ministry of Development and Cooperation of the European Union. Following his exhibition in Brussels he exhibited in Fribourg, Switzerland from the 17th to the 30th November.
From the 19th the 31st of October 2002 Vaco transported his canvasses to Paris where he was invited by the Mayor of St Germain en Laye for an exhibition at musée Véra.
From the 25th of September to the 31st October 2003 he exhibited at the prestigious gallery ARTE92 in Milan, Italy with great success.
In December 2005 Vaco exhibits "Voyages aux mers du Sud" (Voyages on the Southern seas) which was inspired by his travels to Australia, New Zealand, Polynesia and the Marquise Islands. "Voyages aux mers du Sud" was Vaco's first exhibition in Mauritius in eight years.
In January 2008 Vaco has a private exhibition in Hong Kong and the year ends with an exhibition in Geneva, Switzerland.
End of March 2009 Vaco hosted a workshop with the pupils of the Lycée La Bourdonnais in Curepipe and produced a mural with the students.
Vaco continued to work on many large art projects for the private and public sector from his studio in Grand Bay until his passing in February 2023.